Description
Sometimes we struggle to balance individual kids' needs with implementing evidence-based care.
We know evidence-based treatment is an important goal, but statistics and research only go so far if the intervention isn't the right fit for the child in the room.
Part of the experience of trauma is a sense of loss of control and disempowerment. Traumatized young clients need an active hand in their treatment, and as therapists we must foster this while implementing evidence-based care.
Dr. Amy Marschall, psychologist certified in TF-CBT and expert in evidence-based care for children and adolescents, will teach you how to balance the structure of CBT and the flexibility of a trauma-informed approach, in a way that meets each child's unique needs.
In this one-day event, you'll learn to:
Integrate effective CBT techniques with a trauma-informed approach
Adapt your approach when you feel "stuck" in treatment
Gain confidence treating children with histories of trauma
Choose from a robust arsenal of techniques and tricks that are useful in-the moment
Reduce trauma-related symptoms: hypervigilance, rumination, people pleasing, dissociation, aggression, and more
Teach kids concrete therapeutic skills while staying attuned to their trauma-related needs
Empower kids to take an active role in their treatment!
Don't miss this opportunity to create your go-to trauma-informed playbook...
Purchase today!
CPD
---
CPD
This online program is worth 6.25 hours CPD.
---
---
Speaker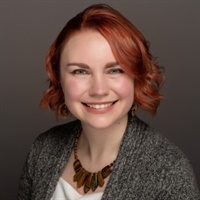 Sioux Falls Psychological Services
---
Additional Info
Program Information
Access for Self-Study (Non-Interactive)
Access never expires for this product.
For a more detailed outline that includes times or durations of time, if needed, please contact cepesi@pesi.com.
Questions?
Visit our FAQ page at www.pesi.com/faq or contact us at www.pesi.com/info
Objectives
Integrate a trauma-informed approach to assessment, treatment planning, and sessions.
Employ a collaborative approach to treatment planning, balancing relevant, specific, and time-measurable goals with each client's articulated goals for their care.
Modify therapeutic interventions based on client feedback of their unique needs, preferences, and history.
Utilize trauma-informed, evidence-based cognitive behavioural interventions in sessions, including mindfulness activities, breathing exercises, visualizations, metacognition, and psychoeducation.
Apply evidence-based cognitive-behavioural techniques while teaching clients to identify what does or does not work for them about each technique, and adjust interventions appropriately in light of client feedback.
Assess behavioural issues from a trauma-informed perspective, with an emphasis on identifying and addressing underlying needs rather than consequences or punishments for problem behaviours, and educate parents on how to implement this approach outside of sessions.
Outline
What Trauma Looks Like in Children & Adolescence
Adverse Childhood Experiences
Growing up During COVID: A New Stressor
Preverbal Trauma
Trauma-Related Emotional and Behavioural Issues
Trauma-Informed Assessment & Treatment Planning
Developmental trauma interview; ACEs score; Trauma Symptom Checklist
Assessment is not finite; how to continually assess client safety and therapeutic needs
Integrating behavioural and emotional goals
What does it mean to feel "better"?
How to Elevate Your Practice Utilizing CBT and Trauma Informed Techniques
Actively engaging kids with a child-centred approach
Balancing the structure of CBT with flexibility/nuance of a trauma-informed lens
Integrating concrete skill-building into trauma processing work
Getting to the root cause of each child's unique trauma needs
A Playbook for Implementing Trauma-Informed CBT (Worksheets, scripts & demonstrations included)
Preparing clients for trauma work

Psychoeducation: deciding what information is helpful and how to present it
Identifying the child's level of anxiety/physiological arousal
Teaching children the language around trauma

Affective Monitoring

When feelings are happening – press pause/go with the flow
Noticing when emotions start to get bigger – feelings thermometer/feelings spectrum/volcano
Mindfulness and body awareness

Metacognition –

Noticing thoughts as they come – watching the clouds/radio station
Emotional reaction to those thoughts – naming feelings/emoji feelings
Thought stopping activities

Narrative therapy

With specific trauma memories – writing vs dictating poem/children's book/ narrative story
Without specific memories - exploring when they learned about the trauma/ exploring feelings related to the knowledge of the trauma

Relaxation Techniques that children enjoy

Mindful bowling/juggling
Guided safe place visualisation
Body scan
Muscle relaxation
Stong like a tree
Art therapy
Music
Clinical Considerations
The art of getting caregiver buy-in for participation in treatment
Balancing honouring the client's needs and requests with evidence-based practice and treatment goals created by guardians
Sometimes developmental trauma needs to be re-processed as the child gets older
Determining/Discerning how much treatment is "enough" for the child's developmental age/
stage
Cultural diversity considerations for trauma work
Limitations of the research and potential risks
Target Audience
Psychologists
Social Workers
Counselors
Marriage & Family Therapists
Speech-Language Pathologists
Occupational Therapists
School Administrators
Physicians
Teachers/School-Based Personnel